RSW Recruiting Solutions is blessed with clients and candidates that continue to trust in the company and recruiting process. To everyone who helped to make 2018 a year filled with great relationships, tremendous growth and fun, I wish you all a very Merry Christmas and a Happy New Year.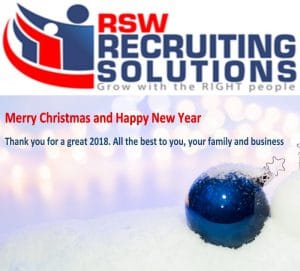 2018 included our first CEO search, critical high-level confidential searches and support of our key long term clients who continue to have confidence in RSW to find the RIGHT candidates for their most critical hiring needs.
We attended many of the events and conferences that keep us close to the industries we serve and clients and candidates that we support.
As we all finish our 2019 budgets and plans, we hope for your growth in revenue, profits and people. RSW Recruiting Solutions continues to focus on specialty materials and industries that require talented and unique individuals to meet the challenges of market growth and increasing demands of new products and services to support our customers.
In  2019 we plan to stay close to our clients and candidates to make sure we are connecting the RIGHT candidates with the RIGHT clients and positions. Please keep us in mind and again thanks for a great 2018. We wish you all a Merry Christmas and Happy New Year.