I just finished filling a composites technology position and attended SAMPE to pursue additional clients and opportunities to meet with present clients and candidates. At this time working on operations and commercial positions in specialty metals, but open to support the composites clients I met with.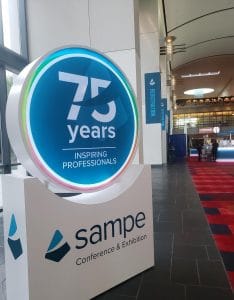 SAMPE came to Charlotte for the first time for their 75th anniversary and it was a great location with great weather on the east coast I could drive to. While the attendance was 3000 plus the activity seemed slower vs prior years, as many I talked to agreed and were looking forward to returning to the west coast next year. Still a good conference, programs and people. SAMPE is always a must attend show to network with clients and candidates.
Boeing support and their attendance was very strong. I enjoyed Boeing Company's Chief Technology Officer, Dr. Greg Hyslop, who shared his perspectives on how the composites community can support and maximize world-changing technology and impacts. The show offers the ability to discover new materials, technologies and products that improve the performance and make the job of composite fabrication more efficient and more affordable and create new opportunities.
My interactions with attendees and exhibitors continue to show increasing challenges to fill and find the RIGHT people to support the industries innovative technologies and growth opportunities. SAMPE engaged almost 500 engineering students with various ways to showcase their skills and gain exposure; including SAMPE Student Symposium, SAMPE Bridge Building Competition, SAMPE Additive Manufacturing Contest and other contests and awards. While this young talent is being developed, many immediate needs cannot wait for the training and introduction of this new talent. Finding the RIGHT people to understand, support and manage the highly technical and project related new business and application development programs keeps me busy and always looking to support a client to grow their business and people strengths.
Many companies have engineering, application development and business development positions posted on their web sites for many months. Why my efforts are focused on finding the right engineering candidates or people with RIGHT experience to match the client needs. I look forward to supporting the people needs for the composite industry supporting the present and future challenges.
Always enjoy seeing the advancement of composites.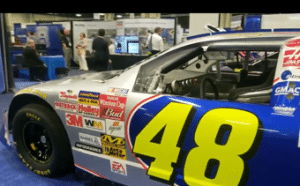 While I missed Jeff Andrews, Vice President of Competition at Hendrick Motorsports, give his view into where composite materials are being utilized in today's current NASCAR race cars to enhance the performance, safety, cost and time I enjoyed the car exhibits. I also met many in attendance working to support the advancing composite material utilization for motor racing. One of just many markets and applications that continue to grow the composites industry.
Contact me if you have any hiring or career needs in the industry.